Discover the best of class in infant carseats.  Shop with FREE Shipping on all of our Infant carseats and infant carriers. These wonderful and safe carseats are designed to remove carseat from car and carry child or use with stroller as a travel system.  Since we only focus on the safest infant carseats and infant carriers you will find a selection that has been chosen for the attention to safety details as well as aesthetics. We also have the lightest infant carseat available in the United States with the superior Nuna Pipa Lite.
light tan Fashion on Nuna's incredible Pipa Carseat with updated Relx Base featuring ease of install and recline mechanism as well as all the classic superlative award winning safety and ease of use from this long running product.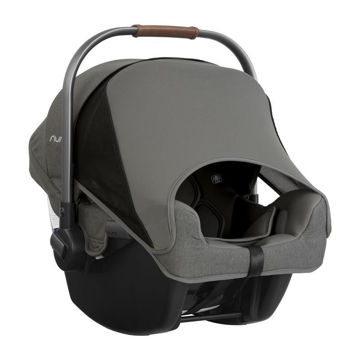 Nuna Granite features medium gray canopy and sky drape on graphite gray seat, with brown vegan leather handles. Lightweight and a real stunner for longer use and a safer ride with load leg and rigid latch install.