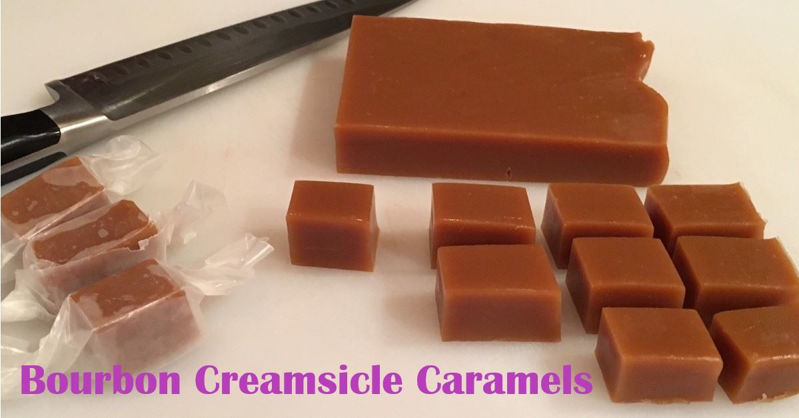 Last weekend I was feeling a bit adventurous with the cookies and decided to go on a quest for the perfect salted caramel chocolate chunk cookie (which unfortunately is still in development. In my approach I though I would grab some grocery store caramels as the soft melting center of my cookie, so I bough a bag. I opened one (of the 30 or so in the bag) took a bite and all I thought was "this is caramel flavored wax"… yuck. So my cookie quest became a bit grander…. now I had to figure out homemade caramels.
Well google is replete with recipes and looking over them all they seemed to be highly similar in approach. The basic recipe seems to have been handed down from a handful of grandmothers and now inhabits all corners of the internet. One recipe from Meaningful Eats even has this photo of the grandmother's recipe card. All the recipes follow this basic approach with some substitutions here and there.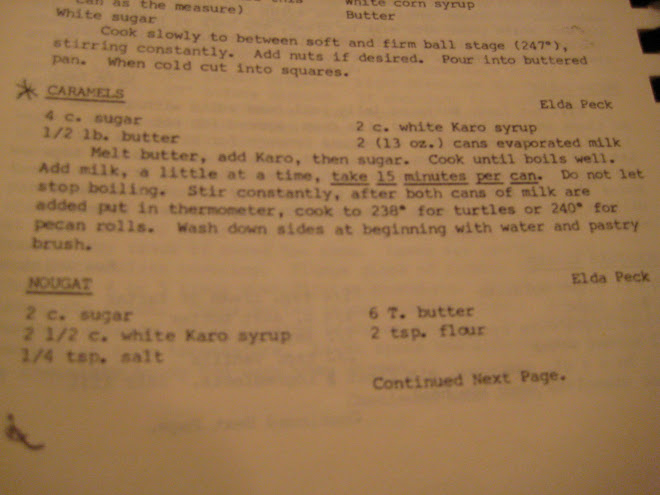 I made up a big batch at 10pm and suffered through the hour long stirring. Poured them out and then hit the hay. The next morning, I rushed to the fridge, cut off a huge chunk and did a little taste test. Soft rich buttery and delicious (not a hint of wax to be found). After my first batch and the fact that they disappeared off the counter at an alarming rate, I decided to play around with this recipe and expand the flavors a bit. I love butter rum flavor and bourbon seems to the perfect partner for the caramel so I knew I was going to use bourbon in the recipe. Since there was already some vanilla and the addition of the bourbon would ratchet up that flavor profile a good bit I thought some counter part flavor would need to be added. Naturally with vanilla & bourbon I decided a hint of citrus would expand the taste a good bit and settled on orange. Orange + Vanilla always = Creamsicle in my mind so I gave it a whirl.
My batch of these caramels will be at the store this week so feel free to come by for a taste (if they last).
1 cup (2 sticks) unsalted butter
4 cups sugar
2 cups light corn syrup
2 cans (24oz) evaporated milk (not sweetened condensed)
¾ teaspoon table salt
¼ cup good quality Bourbon PLUS 2 Tablespoons
1 teaspoon vanilla extract
2 teaspoons orange extract
2 tablespoons fresh zest from a large orange
Regarding use of unsalted butter and the salt addition – this is easier to manage the salt content instead of using salted butter – if you use salted butter in this recipe be sure to pull back on the extra salt in the recipe. The temperature of the candy is a bit higher than many of the online recipes because so much liquid is being added after it cooks.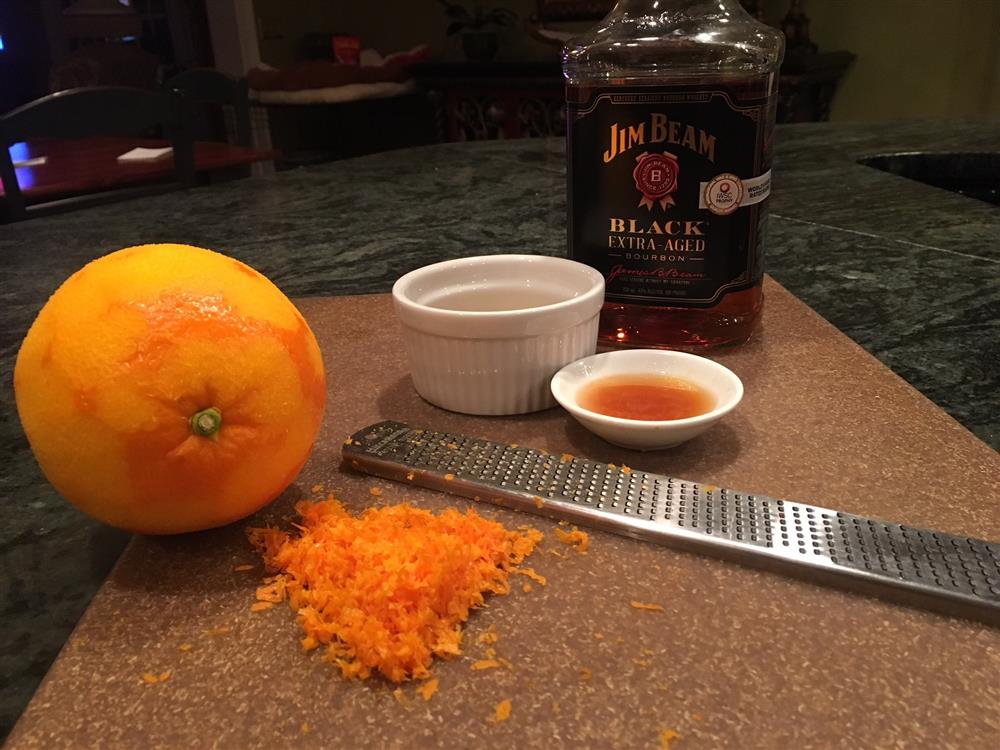 Prepare a 13x9 inch pan (I use a jellyroll/cake pan) but a glass casserole will work equally well. Butter the pan with a small amount of butter (soft not melted). Lay a sheet of parchment into the pan and be sure it goes up and above all side. Then butter, liberally, the parchment. (buttering the pan allows the parchment paper to stick well and then buttering the parchment paper allows the caramels to be removed easily. DO NOT attempt this without parchment paper.
Add butter, sugar, corn syrup, salt and ¼ cup bourbon to a heavy deep sauce pan. Heat on medium to medium high until a soft rolling boil. Stirring constantly.
Once mixture is boiling slowly add the 2 cans of evaporated milk with constant stirring. Each can should be added in the smallest quantities to avoid curdling. Each can should take about 10 minutes to add. The cool milk will cause the mixture to stop boiling – soon as this occurs stop adding until the soft gentle boil returns. KEEP STIRRING
Continue to cook at a gentle constant boil with constant stirring until mixture reaches 240 degrees on a good quality candy thermometer or a high-quality instant read. It will feel like it takes forever to get from 118 degrees to 128 degrees, but the following 12 degrees will pass quickly so keep a close eye.
When caramel reaches 240 degrees REMOVE from heat. Stir in final 2 tablespoons Bourbon, vanilla extract, orange extract and orange zest. Keep stirring this until fully incorporated (about 2 minutes).
While still hot pour caramels into the prepared 13x9 pan. Move directly to refrigerator and let cool at least 3 hours (overnight will be best). Remove from pan when cold and cut into thumb sized pieces (probably about 80 pieces depending on how big a thumb you have). Wrap individual candies while still cool in wax paper and share!
Comments (0)